SAAP Appreciation Award – 40th year
The 40th year Appreciation Award is presented to members in recognition of their valuable commitment to the Association. This award is presented annually during the Administrative Professionals Day Dinner.
The recipients are :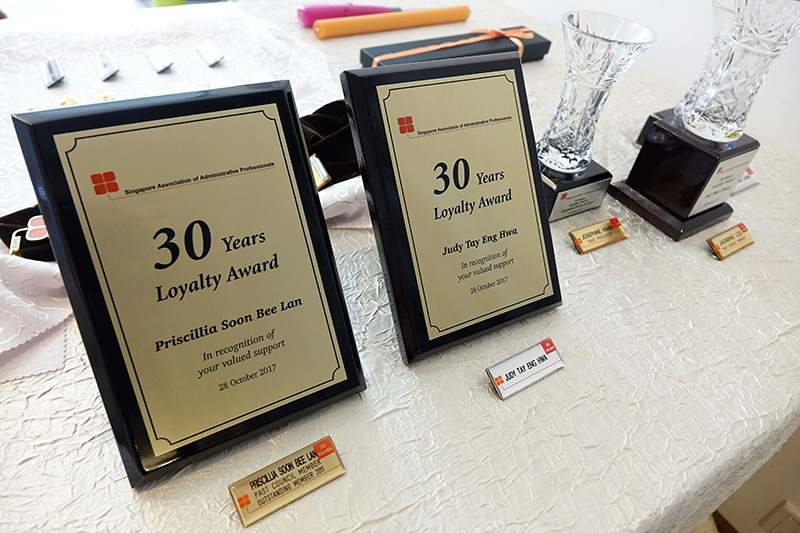 2015
Patsy Tan / Amy Tan / Lucillia Leong / Fay Leong / Lucy Leong
2016
Margaret Chan Wee / Alfred Mary / Linda Sim
2017
Jessie Chng / Marlene Foo / Marlar Lwin
2018
Jagdish Kaur Dhillon / Tina Tan
---
SAAP Loyalty Award – 10th , 20th , 30th year
The 10th year, 20th year and 30th year awards are presented to members in recognition of their loyalty and commitment to the Association. These awards are presented annually during the Management Council 2018/2019 Installation Ceremony. This year the ceremony was held on 10 November 2018 at 2 Halves@Happy Days at NTUC Club. The recipients who were presented:
From left to right : Ng Ming Choo, President - Josephine Kwan, Lor Wan Lin and Evelyn Moh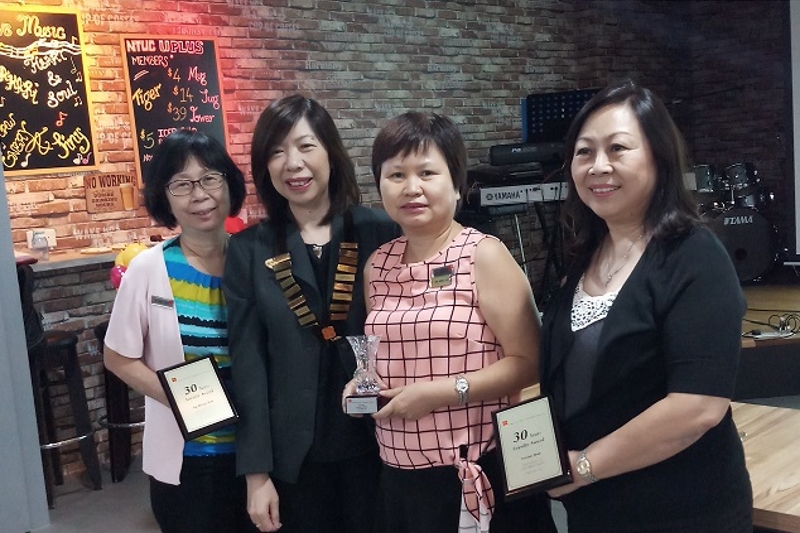 30th year (1988 - 2018)
Geraldine Ho / Janice Hui / Evelyn Moh / Ng Ming Choo
20th year (1998 - 2018)
Jenny Cheong / Kelly Kang / Mollie Wee
10th year (2008 - 2018)
Lor Wan Lin
---
Outstanding Member Award
Every year on Administrative Professionals Day, SAAP presents the Outstanding Member Award to one member, who has been the most active in the Association in the preceding years by way of attendance at functions, assistance in its projects and generally by her commitment to and sustained support of the Association's activities, aims and objectives.
SAAP Outstanding Member 2016 - Ms Rosemary Shin
Outstanding Member listing – 1973 to 2016
---
Administrative Professionals Award (APA)
The Award was initiated by SAAP in 1992 and organised biennially to give recognition to the most outstanding Secretary/Administrative Professional in Singapore for her contribution to organisational performance, productivity and community developments.
The winner will act as an ambassador for SAAP to promote the administrative profession to companies and institutes.