The Association of Secretaries and Administrative Professionals in Asia-Pacific (ASA) was formed in 1974. The formation of ASA has provided an opportunity for administrative professionals and secretaries in and around Asia to meet and to share their knowledge, culture and work experience with one another.
The main objectives of ASA are :
to gain recognition for administrative professionals and secretaries as professionals, and
to promote friendship, understanding, unity and the exchange of ideas among administrative professionals and secretaries in Asia.
An ASA Congress is held biennially and it is hosted by one of its member associations on a rotation basis according to seniority of their membership in ASA.
Singapore (SAAP) hosted the 3rd ASA Congress in 1978 and the 16th ASA Congress in 2004.
The 24th ASA Congress was hosted by the Papua New Guinea Association of Administrative Professionals (PNGAAP)  from 24 to 28 September 2018 at Gateway Hotel, Port Moresby, National Capital District, Papua New Guinea.  The chosen  theme was "Administrative Dynamics : The WOW Factor".
In attendance were a total of 304 delegates and SAAP was represented by Past President cum ASA Coordinator - Margaret Chan Wee, Diana Koh, Lum Xin Mun, Patsy Tan and Sim Siew Gek.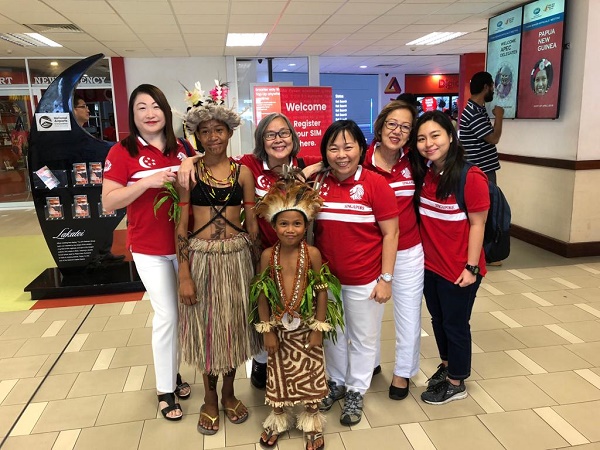 The Congress programme besides seminars also included a tour of the Parliament House, ASA Bazaar, Sporting Activities as well as the ASA Project Contest participated by eight (8) ASA Member Associations. The winner was the Indian Association of Secretaries and Administrative Professionals.(IASAP).
At the closing ceremony ASA President handed over the ASA flag and gavel to the President of SLAAPS.   The Sri Lanka Association of Administrative Professional Secretaries will be hosting the 25th ASA Congress in  2020.
The Closing Dinner performances were put up by some ASA Member Associations.  PNGAAP members from the various provinces decked out in colourful outfits performed dances showcasing their cultural hertitage.
Our members expressed that it was a great experience learning from the various speakers, the culture of PNG, making new friends and renewing friendships made with those from previous congresses and looking forward to the next Congress in Sri Lanka.
1st to 24th ASA Congress Listing
24th ASA Congress e-Newsletter