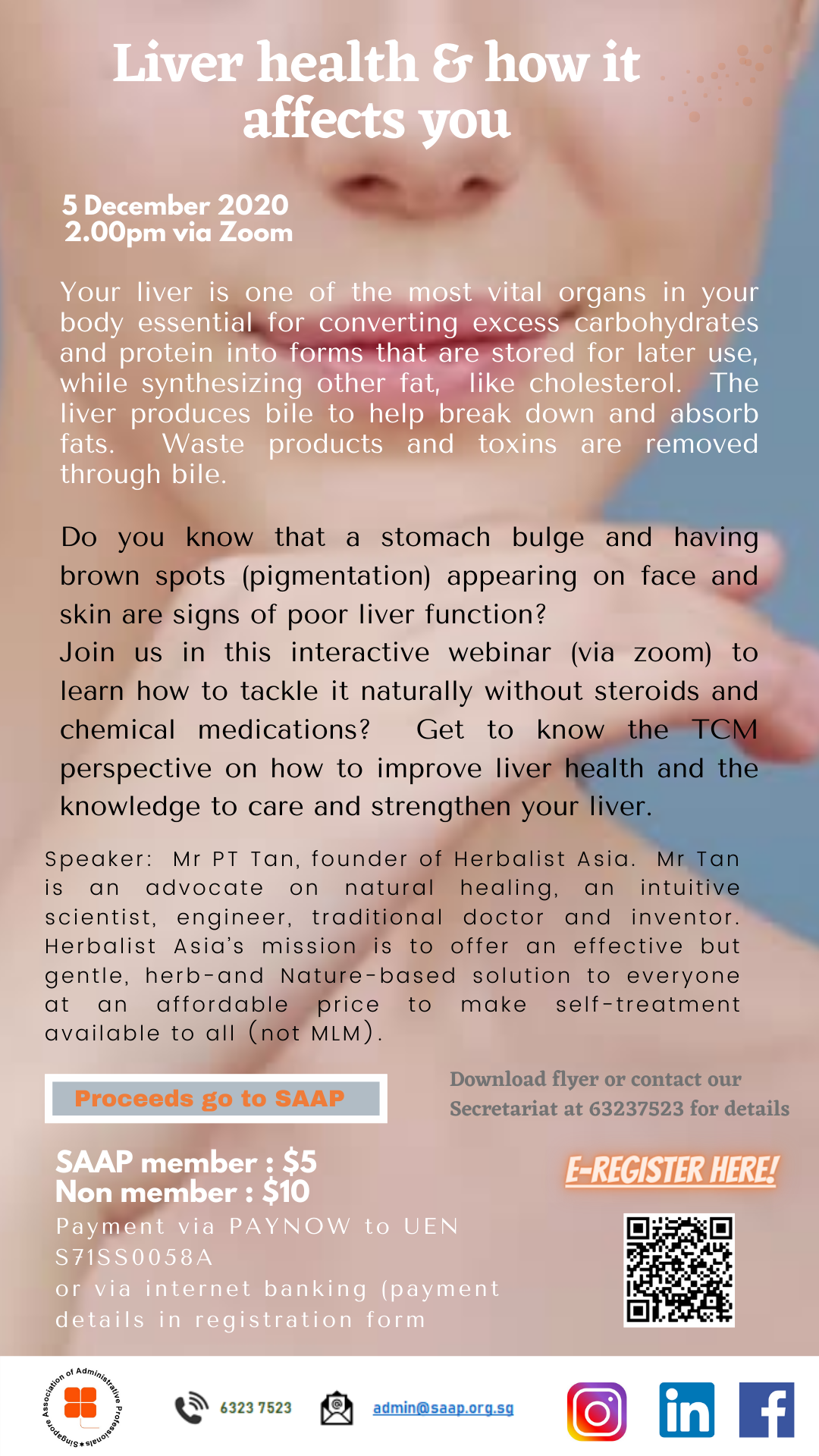 Live Webinar- Liver health and how it affects you / 5 Dec 2020, 2 pm
Your liver is one of the vital organ in your body essential for converting excess carbohydrates and protein into forms that are stored for later use, while synthesizing other fat, like cholesterol. The liver produces bile to help break down and absorb fats. Waste products and toxin are removed through bile.
Do you know a stomach bulge and having brown spots (pigmentation) appearing on face and skin are signs of poor liver function?
Join us in this interactive live webinar (via zoom) to learn how to tackle it naturally without steroids and chemical medications. Get to know TCM perspective:
• how to improve liver health
• gain knowledge to care and strength your liver
Speaker – Mr P T Tan is the founder of Herbalist Asia. Mr Tan is an advocate on natural healing, intuitive scientist , engineer, traditional doctor and inventor
Download flyer or contact our Secretariat at 63237523 for more details.
---
An Afternoon Live Baking Demo via Zoom with Lucy Tan - 7 November 2020 (12:30 pm to 4:30 pm)
For those who love baking, let's join Lucy Tan from Miracle Bakes for a LIVE Demo session as she shows the step-by-step baking and end product. Lucy will share tips on
* how to bake tasty Christmas goodies: Berry sensation cookies and nutty coffee chocolate chips cookies, recipes of other cookies from her Facebook and Instagram
* Christmas packaging and where to get them and
* demonstrate how to decorate the cookies
Download flyer or contact our Secretariat at 63237523 for more details.
---